Main Content
The fall semester will be different than anything we have experienced. Ultimately, our plans seek to sustain the essence of Wake Forest — a place that takes each person seriously, respects their intellect and identity, and invests in the quality of our shared life together. We move to open this fall with the knowledge that we all will play a role in completing the semester successfully. The health of our campus is dependent upon each of us acting for the good of the whole community. That is indeed the promise of Pro Humanitate that Wake Forest remains deeply dedicated to fulfilling.
Please scroll to understand the key parts of our fall plan.
Read Our Full Report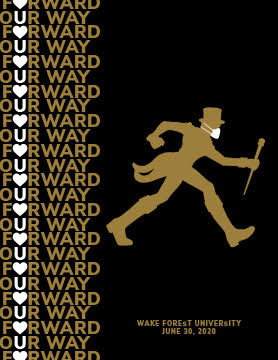 Watch President Hatch Outline Our Model for Reopening
A comprehensive plan detailing Wake Forest's expectations and requirements for addressing this public health challenge will be shared with all incoming students, faculty and staff prior to the beginning of the fall semester as part of orientation or reorientation.
Based on CDC guidance, we will utilize a Screen, Test, Protect protocol to identify and contain potential outbreaks.
We will educate our community about how each person can contribute to a healthy and successful semester by following key public health guidelines, including:

Daily symptom monitoring
Social distancing
Wearing face coverings
Committing to COVID-specific hygiene
Enhanced cleaning protocols
Getting seasonal flu shots

We are expanding the capacity of our Student Health Service team and services to accommodate the forecasted needs of our campus community.
Faculty and staff will have access to resources through the newly-created Employee Health Service.
Staying Healthy at Wake Forest in Fall 2020
Joanne Clinch, M.D., Wake Forest Student Health Services, highlights the "Screen, Test and Protect" model and the best ways to stay healthy this semester.
The Power of Community
Miles Middleton ('21), Student Government President, discusses the importance of individual contribution to a healthy Wake Forest community and positive educational experience this fall.
Students and faculty will have flexibility in how they will approach the Fall 2020 semester.
Course design will include face-to-face, blended and online classes. We expect that about half of undergraduate courses will feature a face-to-face component.
Required classes may be available in a full online format where possible to ensure that individual health conditions, travel restrictions or family challenges will not prevent advancement toward degree.
If necessary, the schedule for courses may extend longer into the day to accommodate the need to offer greater spread of peak class times and reduce the density in classroom buildings.
We will reopen the undergraduate add/drop period from July 15-21 to allow for returning students to adjust course schedules, if necessary. Otherwise, students may retain their original schedules created for this semester. We recommend students speak with their advisors if they have any questions.
We expect the library, studios and labs will be open with appropriate distancing measures and increased infection control measures.
Offices that support student success — including the Office of Academic Advising, the Learning Assistance Center & Disability Services, Magnolia Scholars Office, Merit Scholars Office and the Writing, Biology, Chemistry and Math Centers — will serve students through remote capabilities with some limited in-person options.
Wake Forest Faculty Reimagine Fall 2020
Dr. Betsy Barre, executive director for the Center for the Advancement of Teaching, addresses the dedication of our faculty and their plans for the fall semester.
Wake Forest Academic Experience in Fall 2020
Dr. Phil Anderson, associate teaching professor for the School of Business, discusses how the student academic experience this fall will differ from the previous spring semester.
Residence halls will be open at reduced capacity as we seek to reduce density in accordance with public health guidelines. Given these parameters, Wake Forest will increase the number of single-occupancy rooms, estimating that 65% of residence hall rooms will be singles and 35% will be doubles.
Wake Forest has secured additional spaces in apartment complexes near campus and on existing shuttle routes, which will function as University-sponsored housing. Currently, we do not foresee the need to use hotels as normal residence halls.
While the three-year residency requirement remains in place for 2020-21, students (particularly juniors) are welcome to petition for release in order to live off campus. Petitions will be reviewed first for individually compelling circumstances and then in the order in which they are received. Students who petition prior to July 10 should expect decisions on petitions by July 22.
Revised housing selection times and a room configuration list will be made available for sophomores, juniors and seniors on Wednesday, July 15. First-year students will be assigned rooms by Residence Life and Housing.
The main dining halls will be open and operating under social distancing requirements, which will reduce the number of people able to dine at peak times. We will also offer a revised and flexible set of dining options, including enhanced takeaway service and delivery offerings. All food court and retail venues, and some new ones, will be operating
on normal schedules with social distancing requirements in place.
Public health guidelines constrain the size, duration and location of programming. More than 240 student organizations, club activities and programming will need to re-envision social gatherings and activities in which social distancing is not possible.
We expect the Wellbeing Center and other large spaces will be open with appropriate distancing measures and increased infection control measures.
We expect to offer intramural sports activities that are low health risk, and we will pursue creative new options for friendly competitions and increase the number and variety of outdoor activities.
Offices that support student success — like the Office of Student Engagement, Office of Personal and Career Development and Office of Diversity and Inclusion — will continue to serve students through both in-person and remote capabilities.
Living at Wake Forest in Fall 2020
Dr. Matt Clifford, assistant vice president for Campus Life and dean of Residence Life and Housing, outlines what students can expect while living on campus this fall.
Keys to a Successful Fall 2020
Andrew Logan ('21), Wake Forest University student trustee, shares his perspective from working with administrators on preparations to return, student responsibility and what he is looking forward to this fall.
July 15:

Undergraduate course information updated to reflect academic modality (in-person, online or blended)
Add/Drop period for continuing students begins
Release of housing selection times and configurations
Fall billing date

July 17: Students who have lived on campus for six semesters must declare their intent to live on or off campus
July 22: Decisions to be announced for any off-campus petitions submitted by July 10
July 23-July 24: Housing selection for roommate groups with a senior (Thursday) or junior (Friday) group leader
July 27-28: Housing selection for roommate groups with a sophomore group leader
July 27-31: Registration for first-year students
July 31: First-year housing assignments released
August 1: Fall payment due
August 17-20: New student move-in appointments
August 20-24: Continuing students move-in appointments
August 24: Add/Drop for first-year students
August 26–November 24: On-campus instruction for undergraduate students occurs; we will forgo fall break this year; check with graduate and professional schools for slight variations to their calendars
November 30–December 18: Remainder of the fall semester and final exams occur remotely
Resources
Colleges & Schools