Main Content
As communicated on July 29, undergraduate students are required to complete a COVID-19 test prior to accessing campus. Wake Forest has contracted with Azova Health to facilitate the tests. The process is a self-administered home test that you will receive in the mail once you register and request your test kit.
Why use the WFU Azova Health Portal?
Students should not attempt to make testing arrangements outside of the Wake Forest at-home testing program.
Wake Forest requests that all students use Azova Health's system because of its convenience, more consistent results across a single testing platform, and its ability to provide a secure portal for sending testing results to Wake Forest's Student Health Service. With this single, unified system, Wake Forest can facilitate the student move-in process and begin the return to campus as seamlessly as possible.
Next steps
As soon as possible, please access the Wake Forest University Azova Health Portal. Detailed instructions are provided below. Please note the following important steps:
Create an account using your Wake Forest email address.
Request a test kit be sent to the address where you will be completing your 14-day quarantine. Expect two or three days for shipping.
Consult the table on this site to determine your ideal time to administer the test.
Return the test kit in the envelope provided .
Check the portal for your results within three days of sending it in.
You are responsible for the $129 cost of the test. You will be prompted to make your payment on the Azova Health site as the final step to request your test kit. If applicable, plan to contact your insurance provider directly for reimbursement. Students eligible for a coupon code based on financial aid criteria have already been notified.
Azova Health operates a support center from 9:30 a.m.-7:30 p.m. (Eastern). If needed, contact them at 844-MY-AZOVA.
NOTE: If you are using a coupon, please see the PDF with instructions here.
Detailed Instructions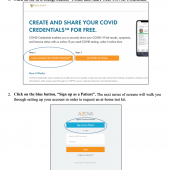 Instructions with Screenshots
For a complete walkthrough of the process to request a testing kit (including screenshots):
Written Instructions
Go to https://wfucovidtest.azova.com/ and create your account

Click the orange button on the left that reads, "Step 1: Create and Share Your COVID Credentials"
Click the blue button to "Sign Up as a Patient"
Supply the requested information using your Wake Forest email address and home address. You must only use your Wake Forest email. Write down your password as you will need it again in a few steps.

You will then be asked to verify your identity and provide a security question

Confirm you entered the information correctly, consent to receive SMS notifications and click "Next."
Confirm you are over 18 years of age. Click "Continue"
Complete and submit the intake (personal health) form and consent to share your credentials with Wake Forest. Click "Update"
In the pop-up screen, click the orange button that reads, "Do You Need COVID Testing?"

You will be returned to the home screen to begin the process to request your testing kit

Click the orange button on the right that reads, "Step 2: Get COVID-19 Testing"
Click the orange button on the left that reads, "Get an at-home test for $129." Do NOT select the pharmacy option.
Click the blue "Agree" button to agree to Azova's terms of use and privacy policy
Check "Yes" or "No" to a series of questions based on your current symptoms*. Note: some responses may indicate a need to seek immediate medical attention — choosing "Yes" may prompt instructions to call 9-1-1. You may need to hit the "Back" button to complete the process to request the testing kit.
Check "Yes" when asked, "Do you need testing for school, travel, your job, or do you believe that you need to be tested for some other reason?"
Click on the blue button to "Order an At Home COVID-19 Test Kit"
Select the radial button for "COVID At Home Saliva PCR Test Registration $129.00/visit" and click the orange button that reads "Book Now."

You will need to log in using the same account credentials created in step 1.

Enter your Wake Forest email address and the password you created at the beginning of the process.
Click the orange "Next" button.
Acknowledge you are 18 years of age or older and click the orange "Continue" button.
Enter the address to where you want Azova to send your testing kit. Ideally, this will be the location where you will complete your required 14-day quarantine and click the orange "Continue" button.
Enter your payment information. Note you will need either a credit card or a coupon code. Click "Continue."
Complete the final intake form. There will be several questions. You will be asked to upload a photo of your student ID, identify your race and ethnicity, as well as complete a series of symptom based questions. One of the questions will ask the reason for testing. Please type "school or college" in the explanation box. At the completion of this final form click "Update".
One final pop-up box will appear and confirm you have created credentials. You will see two buttons regarding testing. Click the blue "No Thanks" button. You do not need to order another test.
You should receive an email and a text message indicating your requested test. You can sign in to the portal at any time using the "Login" button in the top right corner of the Azova home page and view the progress of your request under the "Appointments" section.
Note: Expect 2-3 days for shipping via Priority USPS. If you do not receive a text or email with shipping confirmation/tracking information, please call the Azova Health support center at 844-MY-AZOVA. They can tell you the exact date your order shipped and provide the tracking number. The support center is available 9:30am-7:30pm (Eastern)
* — As previously noted, Wake Forest's daily symptom monitoring process will be conducted through the SneezSafe website.
More information
FAQs
Read the Frequently Asked Questions about Wake Forest's COVID-19 testing.
---
Support
To get testing support from Azova, call 844-MY-AZOVA or email support@nullazovahealth.com.
---
Completing your kit
What should I expect when I receive my kit?
For a preview of what the test kit and instructions look like, view this PDF.